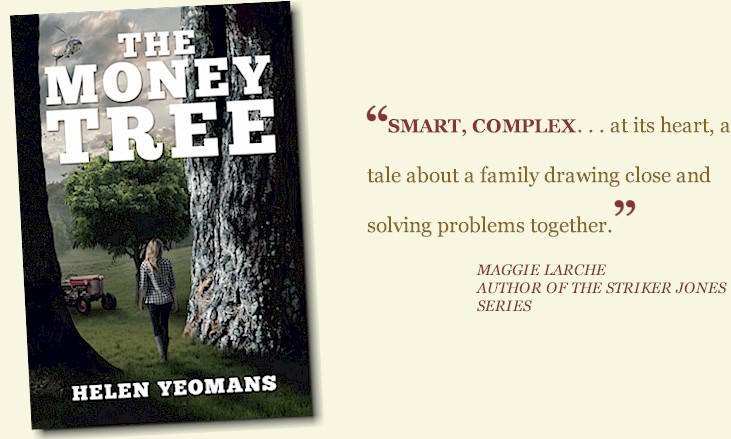 What if money really did grow on trees? How would that affect the banking system? How would it affect the grower?
The Frisbys have been growing money for ten years on their island farm, and George has nearly perfected the art. Only one tiny flaw remains: a faint smell, undetectable except to animals.
Jane tolerates the temperamental money tree while worrying about the legality of growing money and her family's safety. She also worries about the children. Daffy (18) is torn between careers in terrorism and economics ("How do we get from bad money to good money without going through hyperinflation?"), while 12-year-old Mike divides the world into soakers and soakees and wants to franchise the money tree.
Quite a few Frisby dollars are now circulating freely, and odd stories begin to appear in the media. The Secret Service takes notice and when forensic analysis proves dollars can be grown on trees, agents begin a top-secret search for the source, a search that soon turns international.
The value of paper money is threatened by this new "printing" source, while old money like silver coinage and new digital currencies like Bitcoin appreciate in value. The Frisbys, meanwhile, are busy with island life, until a series of events threatens their home and relationships with their neighbors.
Buy it now online!
Or order it at your local bookstore
ISBN: 978-0-9693219-5-8
E-Book ISBN: 978-0-9693219-6-5
"I learned a lot (about money and Bitcoin, which I've been fascinated by ever since I first heard about it), was entertained and moved, and loved the characters, particularly Daffy. I thought it was a cool original concept to produce realistic fiction with only one element (the central element) being sci-fi. It made me bite…and chew…fully. I found that to be really engaging."
"The Money Tree tells the story of a Canadian farming family with a secret–hidden within their apple orchard is a grove of trees that grow money. After a decade of hiding their secret, the Frisbys wonder if it's possible to share the wealth by teaching others how to propagate the trees, which can be "programmed" to produce different currencies. They are unaware at first that the authorities are on to them and are prepared to do just about anything to destroy the trees.
One of the reasons the novel works so well is that Yeomans makes the family just quirky enough to entertain without taking away from the serious sociopolitical discussion that underpins the work. [ read more ]
"I loved the quirky characters in this imaginative tale. The story looks at what would happen if one really could grow money on a tree. A fascinating look at what various characters would do if this were the case. Both humorous and serious, this book is instructive about our current monetary system and its flaws."
"It makes you think on many levels, love, greed, government control, growing up, independent gardeners. . . ." [read more]