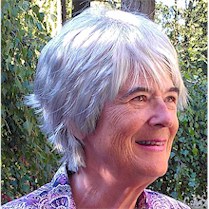 Helen Yeomans tried her hand at short stories, scripts and screenplays before settling on the novel as the form she liked best. Starting out in the publishing industry, she worked in Toronto (Prentice-Hall) and London (Mitchell-Beazley) before founding her own company in Vancouver, providing editing and writing services to business clients worldwide. Her first book, The Christmas Carol Handbook, was published in 1987 and sold 10,000 copies.
She fell into fiction writing by accident while exploring the film industry as a source of editorial contracts. After writing three feature length film scripts, one of which was optioned, she tried her hand at shorter scripts then other fiction forms, including short stories for children.
Owen's Day, her first novel, continued the Christmas theme with its story of a man who gives too much. Published in 2011, it was followed a year later by Ang Tak ("Little Tiger"), a story of international intrigue centered on an amateur golfer and his caddy at the Masters. In November 2013 came The Money Tree, about a close-knit family living on the Gulf Islands of British Columbia, and their unusual trees. The story explores the stability of paper money and family. Most recently, Return to Kaitlin is a story of a young man's odyssey across northern Canada.
Published in 2015, A Knock at the Door is a collection of stories for children. The characters in these stories are letters and the letters have personalities, and spelling evolved in a way not described in the OED.
Born in England and raised in Canada, Yeomans has had a lifelong interest in the relationship between people and their governments. She is an avid golfer who generally succeeds in playing well approximately once a year, loves movies and music and reading, and working with children in the library's Reading Buddies program. She's currently at work on her fifth novel.