I've produced five books as a self-published author. It was natural for me to do my own layouts since I used to work in publishing and I'm familiar with the conventions used in formatting books.
I'd like to say I use one of the high-end programs—InDesign or Quark—but I don't. Like a lot of writers, I allocate the lion's share of my budget to editing and cover design, so book formatting gets done low budget: by me, using Word.
For my earlier books, I learned how to get the best out of Word—how to overcome its production deficiencies and make it lay out text in a way that isn't visually unpleasing. Tepid praise, I know, but Word can't provide the options found in dedicated production software like InDesign. However, it has the settings to do an adequate job.
For my fifth book, however, I ran into a brick wall. Because this one, unlike the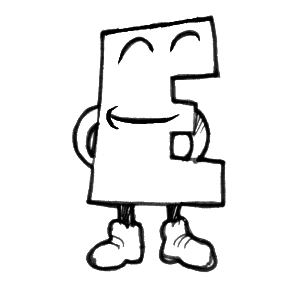 preceding four, contains images (it's a book for children). Here's one of them.
Looks fine, doesn't it? That's because you're viewing it in a browser, where image resolution is much lower than it is in print production. I had no idea of these distinctions until recently. I've worked extensively with images for the web, both photos and line art, but in my print projects, professional designers always took care of the graphic element. It struck me that there may be others out there with the same blind spot, so in this article, I'm going to lay out the steps to ensure that your images conform to the much-higher specification for printing.
Checking the Resolution
First things first. When I uploaded my original pdf to CreateSpace, their report said "some of the images" (in fact, all of them, as it turned out) were of lower resolution, but that I could still go ahead and print. So I ordered a draft copy and took a look. The drawings were indeed tolerable, but didn't evoke much satisfaction. I wanted a crisper, sharper look.
It turned out that my images were only 120 dpi. For good-quality print production, you really want a resolution of 300 dots per inch. So before you knock yourself out trying to make Word behave in a civilized manner, make sure your images are of sufficient quality to begin with.
There's a simple way to check this. Right-click any image and select Open with Paint. Under Image in the Paint toolbar, select Attributes and you'll see the resolution expressed as dots per inch. If it's less than 300 dpi you could rescan the image, find a higher quality copy, or choose to live with it. Regardless of what you decide, knowing your resolution to begin with (as I should have but didn't) will tell you part of the reason why your pictures aren't coming out as crisp in print as they are online or in your e-book.
(Preparing e-books with illustrations holds a different set of headaches. You'll find a comprehensive guide to e-book production here.)
The "Save As" Feature
Word allows you to save a file in almost any format. For example, I save my book as an .odt file for e-book formatting. This is the Open Office extension, which produces a cleaner file for e-book production.
To avoid crushing your images, you want to use the .doc format. This has been supplanted by the default .docx extension in all versions of Word since 2007 or earlier, but for book formatting purposes and particularly if your book contains images, .doc still works best, because it allows you to turn off compression. Here's how.
Hit File/Save As, and select the .doc extension from the dropdown list. Next, click on the Tools button at the bottom of the menu page, beside the Save button.
Select Compress Pictures.
Uncheck the box that says Apply Compression Settings Now.
Click on Options
Uncheck the top box, Automatically Perform Basic Compression on Save.
Hit Okay, Okay again, and Save.
Just for purposes of comparison, you might want to make a note of your file size, or work with a separate copy of your manuscript so that you can compare the file size before and after you complete the steps below. If you've been successful, you'll have a larger file because of your soon-to-be-uncompressed pictures.
Insert Images
When you add an image, make sure to import it using the Insert/Picture option (rather than copying and pasting). Resize and format as necessary. When you've finished adding images and your pages are laid out to your satisfaction, you're ready for the next step.
I've tried this step when I begin importing pictures and when I've finished. It seems to "take" better when I do it last. So: when your pictures are in place in your manuscript, select any one of them. Right-click, select Format and then click on the Compress button or tab.
Under Apply To, select All Pictures
Under Change Resolution, select No Change
Under Options, uncheck Compress Picture
When you save out of this step, you may well almost feel the file expand, and when you save the document you should find it is significantly larger than before. You can compare it with the earlier saved version, to see if this is so. Incidentally, if you repeat the above procedure with any of your pictures, the settings won't seem to have been saved. But they were.
(If you're publishing a book through CreateSpace, take advantage of their forums. They cover all aspects of book production and marketing and I found them really helpful when I was trying to figure out what I was doing wrong.)
Create a PDF
Your last step in preparing for publishing is to create a pdf. If you have Acrobat you'll be fine. If you don't, I recommend the free program doPDF. It will allow you to specify a 300 dpi image resolution and you can also embed your document's fonts, an essential part of the process. I've submitted doPDF output to both CreateSpace and LightningSource. I believe IngramSpark still expects the pdf/x-1a format, which requires Acrobat.
These steps should result in a good-quality print output. I'd be interested to hear your own experience.
http://www.helenyeomans.com/wp-content/uploads/2014/10/Logo-11-300x88.png
0
0
hy
http://www.helenyeomans.com/wp-content/uploads/2014/10/Logo-11-300x88.png
hy
2015-12-17 22:57:57
2015-12-17 22:57:57
Image Quality in Print