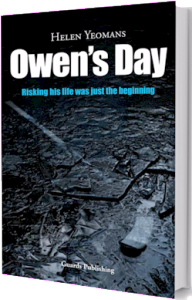 In view of the time of year, I'd like to give a shout-out to my first novel, Owen's Day. It's the story of a man who gives too much, a rather reclusive man, and the family and city who come to know him after he does a very brave thing.
I recall having a terrible time defining Owen, while I was writing this novel. I had set out to write a story about the anti-Scrooge, about someone who gives and gives and gives. I was trying to figure out why he does that and for a long time I was in the same position as one of his friends: "I know people who throw money and gifts around to compensate for being obnoxious, but Owen isn't like that and I don't know why he does it." Like her, I just wanted to throw something at him. But the effort was ultimately quite rewarding because he's a good guy, just a misguided one.
Owen's Day is set in the period from late-November through to Christmas, so this is the right time of year for it. And here's the best part: you can read it for nothing on your e-reader and if you decide you'd like to give it as a stocking-stuffer, you can buy the paperback.
You have a couple of options to get the e-book. You can click on the orange-green button on the right and join my New Releases group. Or, if you don't want to join a group, the link above will take you to the book page with a list of all retail outlets carrying it.
http://www.helenyeomans.com/wp-content/uploads/2014/10/Logo-11-300x88.png
0
0
hy
http://www.helenyeomans.com/wp-content/uploads/2014/10/Logo-11-300x88.png
hy
2015-12-08 22:41:48
2015-12-08 22:42:10
A modern Christmas story--free of charge