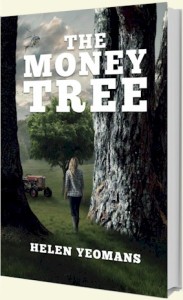 The Frisbys have been growing money for ten years on their island farm, and George has nearly perfected the art. Only one tiny flaw remains: a faint smell, undetectable except to animals.
Quite a few Frisby dollars are now circulating freely, and odd stories begin to appear in the media. The Secret Service takes notice and when forensic analysis proves dollars can be grown on trees, agents begin a top-secret search for the source, a search that soon turns international.

Helen Yeomans discovered how much she loved writing fiction while exploring the film industry as a source of editing work. The Money Tree is her third novel, adapted from a screenplay. Her children's book, A Knock at the Door, is a finalist in the 2015 Wishing Shelf Awards. She is currently at work on her fifth novel.