Like other writers, I'm always trying new ways to build an audience. I've run several giveaways on Goodreads (in fact, I have two running right now, Return to Kaitlin and The Money Tree ).
Recently, Amazon started to run a similar program, open to anyone in the US. They take care of the shipping for you, and I decided to give it a whirl for RTK, so offered two copies, setting the odds at 1:300.
The strangest aspect of this little program was the silence, which was thunderous. On Goodreads you can at least track how many people have signed up to win a copy. On Amazon, not a peep. I thought no one had even seen the offer, much less signed up for it. Once I'd set up the giveaway I heard not a word: no cheery, encouraging message; no summary of daily progress; nothing. In fact, when I forgot the start and end dates on the damn thing I had the devil's own time finding out any details. It was then that I discovered I'd omitted any description or book blurb at all.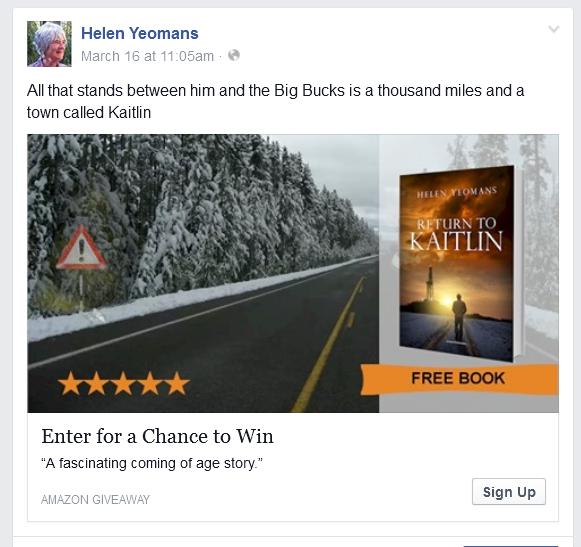 Slightly panicked, I decided to run a little Facebook campaign for the five days remaining. I'd been wanting to test the image at the right with the target group Grumpy Old Men. In the event, it pulled less than 1% interest. I choose to believe that's because grumpy old guys don't read, but maybe it's just not a compelling ad.
Whatever the case, I had by this time become convinced that the entire thing was a bust, and was waiting for Amazon to confirm this. Imagine my surprise, then, when they told me 343 people had signed up, and that Courtenay C. was the lucky winner. Romance writers, of course, will have a different experience, probably finding 5,000 interested readers panting for the winner to be revealed. But I was moderately pleased with this result. The idea is to get one's name out there, so in a modest way, this filled the bill.
In addition, it's remarkably trouble-free in that Amazon does everything for you. I may give it another whirl some time. And if I do, I'll add a sentence or two of sales blurb.
http://www.helenyeomans.com/wp-content/uploads/2014/10/Logo-11-300x88.png
0
0
hy
http://www.helenyeomans.com/wp-content/uploads/2014/10/Logo-11-300x88.png
hy
2016-03-23 06:29:22
2016-03-23 16:21:47
Testing Amazon's Giveaway Program