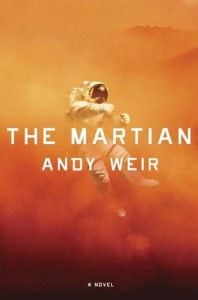 Blown away from his crewmates by a violent windstorm on Mars, Mark Watney is abandoned, assumed dead. The story of how he survives makes for a riveting page-turner (these are not words I often use) in The Martian, Andy Weir's first published book.
Mark is a mechanical engineer and a botanist on a lifeless planet. His knowledge and skills are what enable him to survive.
The Ares 3 mission was meant to last 30 days, and had food enough for six people, which means Mark's food will run out in 6-9 months, depending on how abstemious he is. But the next mission isn't due for four years and he has no means of communicating with Earth, so he has to find a way to stretch the contents of the pantry and supplement them.
The Martian contains one disaster after another, each surmounted by a man with a can-do attitude and an inexhaustible supply of what I would call, not optimism exactly, but positive realism. I saw the movie (with Matt Damon) over Christmas and found it excellent. But it could not cover all the detail of the book, and only partly conveyed the crippling loneliness of being the sole living entity on a planet.
Like Tom Clancy's novels, this one has a heavy dose of tech talk, which can be skimmed. It also has plenty of heart and is a great read for that reason alone. It belongs to the make-and-do school of stories, and can stand with the best of them, like Robinson Crusoe and Lost in the Barrens. A super read.
My rating: five stars
http://www.helenyeomans.com/wp-content/uploads/2014/10/Logo-11-300x88.png
0
0
hy
http://www.helenyeomans.com/wp-content/uploads/2014/10/Logo-11-300x88.png
hy
2015-12-31 17:15:49
2015-12-31 17:16:32
Review: The Martian