Review: Charlie Bingham Gets Clocked
Charlie Bingham Gets Clocked is a great example of a tale spun from small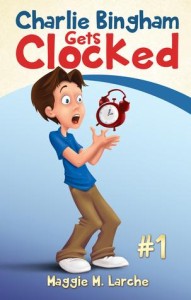 beginnings. Nothing much happens, but you'd never know it. Fast-paced and funny, it takes place during a school day in the life of hero Charlie. The story revolves around a lizard and an antique alarm clock, the kind with bells on the top. The kind that makes a noise. Speculation surrounding the origins of that clock, which belongs to Charlie's teacher, is part of the fun.
This is a new series by Maggie M Larche, and judging by the first book, it will be a great success. Highly recommended. I look forward to more stories about Charlie and his friends.
My rating: 5 stars
---
Review: Striker Jones: Elementary Economics For Elementary Detectives
When he's not doing his homework, Striker Jones solves mysteries. There are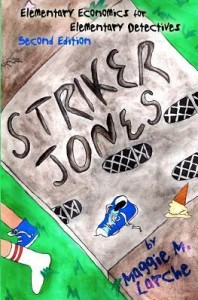 other boy detectives, of course, but what makes this series unusual is the economics element. Striker has an understanding of basic economics and that helps him to recognize motives, which in turn leads to identifying the culprits in each escapade.
This first book runs through the school year, from August summer holidays to Christmas, Easter and the summer again, as Striker and his friends Bill, Sheila and Amy solve crimes. Who stole the school donation funds? Who is their teacher, Miss Harper, in love with? Why did the kid nobody likes win the school election?
The series is a timely reminder that "economics" is the study of basic human needs and wants. Fun to read, Striker's cases also help kids to understand why they—like all of us—behave the way they do.
My rating: 4 stars
On Amazon
http://www.helenyeomans.com/wp-content/uploads/2014/10/Logo-11-300x88.png
0
0
hy
http://www.helenyeomans.com/wp-content/uploads/2014/10/Logo-11-300x88.png
hy
2015-11-21 19:42:41
2015-12-03 19:53:52
Two children's books by Maggie M. Larche