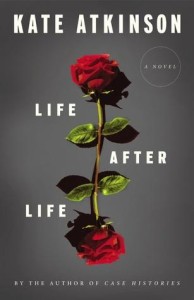 What if you could keep reliving your life until you got it right? That's the premise of Life After Life by Kate Atkinson. Set in England in the early 20th century, it's the story of Ursula Todd and her family: parents, brothers, sisters, servants and dotty aunt. Ursula has difficulty getting through day one, as the dangers of childbirth take their toll. Eventually she gets past her baby years and enters her teens. Here, choice begins to play a part and she takes several different paths that end badly.
The London Blitz plays a role in Ursula's story, and I enjoyed learning something of the civilian wardens who directed the search and rescue efforts after each wretched bombing attack. Burrowing into collapsed houses is not for the faint of heart and the stories range from tragic to gruesome. I don't know whether these civilian rescuers were honoured but they were every bit as courageous as soldiers on the front lines, so I'd like to think they were.
Each of her past bad experiences leaves a wraith of memory in Ursula's mind, something like deja vu, though often not nearly that strong. Nevertheless, she uses her hunches and a recurring sense of impending danger to chart a new course in her life, a course with a world-changing goal. I've got to say this was less important to me than to see her find some happiness, but the story is told so artfully that both come together in the end.
The characters are well-drawn. I couldn't quite fathom Sylvie, the mother, but Ursula's father was sweet and supportive, and she had an interesting and close relationship with her sister. I've heard her brother Teddy is the central character of a sequel, so I'll be looking out for that.
Life After Life is a wonderful book, and manages to avoid most modern idiomatic lapses. It is not really a period piece; in fact it seemed to me to be timeless, oddly so given the plot. The author has written several other novels, and I'm looking forward to reading them.
My rating: five stars
http://www.helenyeomans.com/wp-content/uploads/2014/10/Logo-11-300x88.png
0
0
hy
http://www.helenyeomans.com/wp-content/uploads/2014/10/Logo-11-300x88.png
hy
2015-11-04 18:27:05
2015-12-04 19:52:09
Review: Life After Life --By Kate Atkinson