One thing I've learned during the past few months of setting up and promoting my site: it's a black hole for time. I subscribed to Nick Stephenson's course, Your First 10,000 Readers. Nick's a stand up guy, in my opinion, with valuable ideas on promotion and an ethical mindset. But he uses videos for everything. They take hours to listen to and hours to implement. If you're interested, here's his Facebook page.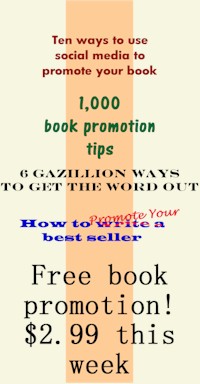 Promotional spending can also be a black hole. Sensible people create a budget, but I never have time for stuff like that.
However, I like to look out for freebies, like the Author Marketing Club's free submission program to free sites (what's not to like!). This is for Kindle ebooks only. You can also get a paid ad in their daily newsletter. This I'm not so crazy about because the AMC logo is all you can see above the fold in your inbox. You have to scroll down to find the listed books. In my view, Jim Kukral (another stand up guy) would do better to reduce the logo size so that at least half of any featured book can be seen at once.
With the volume of new books being publishing annually (I've heard the number 30,000 being thrown around), promotion is a growth industry. New sites offering free or paid advertising crop up all the time. I tried the automatic submission program at Book Marketing Tools, which submits to about 30 sites in roughly half an hour. This worked moderately well for me (I promoted my novel Owen's Day, which is currently free in e-book). However, the tool costs $14.95 for one submission and while it certainly saves time, I'm not sure the results warrant the new price. But I have to pay with the feeble and sickly Canadian dollar, which translates to more than $20. This may affect my thinking.
A number of promotional sites become available once you've gathered a certain number of reviews: The Fussy Librarian, themidlist.com (which has got so grand you can't find the book submission page any longer), and the big guy, Book Bub.
To my way of thinking, (and I'm still trying different sites and programs), one of the best deals around is the BKnights promo vehicle on fiverr.com. If you're not already a member of fiverr, you might want to join. You can buy everything under the sun for $5 on this site. Bknights is fast, offers several different options and, for me at least, worked well. It's best for free e-books rather than paid.
All very interesting, and more sites crop up from word of mouth all the time. For the writer trying to build a name or brand, it's best to build a little bit of promotional activity into your daily schedule, and be judicious about your spending. This is an investment for the long haul. 🙂
http://www.helenyeomans.com/wp-content/uploads/2014/10/Logo-11-300x88.png
0
0
hy
http://www.helenyeomans.com/wp-content/uploads/2014/10/Logo-11-300x88.png
hy
2015-10-29 19:29:56
2015-11-02 17:47:08
Book Promotion: An investment that goes on and on . . .