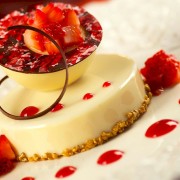 The night before my interview with Pastry Chef Vinay Myakal, White Chocolate Cheesecake appeared on the menu at dinner. Of course I chose it—indeed, in view of my interview I felt it my duty to eat both this featured dessert as well as a second, different, offering just to be absolutely sure the quality was no aberration. Perhaps I was unduly skeptical, since this was the seventh night of our cruise, but I felt a duty to be thorough.
Vinay and I met in the International Café at 10am the following morning and I asked him how many of the cheesecakes he and his staff had made. 1650. I had a mental hiccup at this picture.  Some 3500 people were cruising, so Vinay must have reckoned nearly half of them would choose the cheesecake.
The production process lasts three days, I learned. They start by making the base (all sixteen hundred and fifty of them), then add the cheesecake. Glazing and finishing work is done the afternoon before dinner.
Vinay has 17 people working in his department, four of them at night. Pastry-making is a 24/7 operation and they turn out ten to twelve thousand pastries a day, storing them on trolleys in their fridges. They can do wedding cakes with a bit of notice and they always provide birthday cakes to order, baked fresh. They seem to go out of their way to find an excuse to cook, since I was awarded a cake even though my birthday was a week before the cruise.
If I had my life to live over, I might conceivably become a pastry chef. Thanks, Vinay, for some truly delectable sensations.
http://www.helenyeomans.com/wp-content/uploads/2014/10/Logo-11-300x88.png
0
0
hy
http://www.helenyeomans.com/wp-content/uploads/2014/10/Logo-11-300x88.png
hy
2015-08-06 22:15:18
2015-12-08 22:16:31
Cruising Along