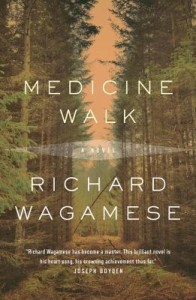 I loved Medicine Walk. It takes place in the interior of British Columbia, in the northern Nechako region. It's the story of a teenager, Frank, an angry 16-year-old who knows nothing of his mother and has been let down again and again by his drunkard father, Eldon. Frank lives with an old man on a farm, and has learned both farming and the ways of the land. Called into town to see his father, he finds him dying and anxious to be taken to the high country to be buried.
On the journey he finally unburdens himself of his past life, of Frank's grandmother, his mother, and the old man. There is anger and bitterness and ultimately, forgiveness.
I'm a sucker for "make and do" books, so I loved the trail aspect of Medicine Walk, learning how to catch fish without a rod, edible flora, and how to face down a grizzly bear (that's what you have to do, incidentally. Never turn and run: it doesn't work).
I liked Frank very much. He's one competent young Indian, understandably filled with anger at his father, but also the beneficiary of love and steadfastness from the old man who raised him. And the prose is a pleasure to read, tangible and almost crunchy. This is a good book.
My rating: 4 stars
http://www.helenyeomans.com/wp-content/uploads/2014/10/Logo-11-300x88.png
0
0
hy
http://www.helenyeomans.com/wp-content/uploads/2014/10/Logo-11-300x88.png
hy
2015-04-30 18:52:48
2015-12-04 19:53:15
Review: Medicine Walk --by Richard Wagamese