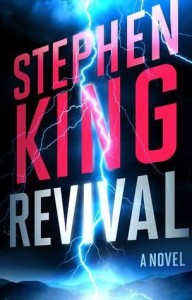 I'm a lapsed Stephen King fan. I read The Stand and Cujo and The Dead Zone when I was young but found Misery and The Shining too frightening. When I was looking for reading material for my vacation, I grabbed a Grisham and a King (Revival) and wondered at the time if the latter was a mistake.
It wasn't. I enjoyed Revival no end. Jamie Morton, the hero, reminded me of the sweet-natured hero of The Dead Zone and he ends up carrying a similarly heavy burden, though it isn't second sight. The story chronicles his life from childhood to the present, and the conclusion is both uncomfortable and thought-provoking. I had a hard time putting the book down, even though I was on a cruise, with plenty of distraction.
Jamie comes from a large happy family in (where else?) New England. Tragedy strikes, and in his late teens and twenties he has trouble dealing with it, and becomes a junkie. He's saved by the minister from his home town, a man who lost his family early and has been on a quest to find a new source of electricity ever since, a source that can both heal and cure.
Working the religious carny circuit, the minister learns how to harness this power, and cures Jamie of his addiction, and others of assorted ailments and diseases. But he also extracts a pledge from Jamie, and compels him to honor it in a scene that has much of the horror that we associate with Stephen King.
Revival is a super read and I'm now a renewed King fan, with plenty of catching up to do.
My rating: 4 stars
On Amazon
http://www.helenyeomans.com/wp-content/uploads/2014/10/Logo-11-300x88.png
0
0
hy
http://www.helenyeomans.com/wp-content/uploads/2014/10/Logo-11-300x88.png
hy
2015-01-22 18:46:51
2015-12-04 18:52:03
Review: Revival --by Stephen King