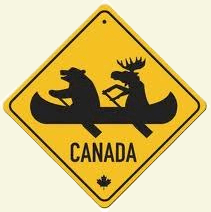 I saw moose everywhere on my journey last August through western Canada. Moose, elk, deer, bear. I saw them all—on signs. Lots and lots of warning signs, the most unnerving of which was "Watch for moose next 65 km" followed seconds later by "Moose next 2 km." They never materialized. Not once during my 4,000 km journey did I see a live moose. Nor any other wildlife except for a herd of goats by the roadside in Lake Louise.
Dead wildlife, however, was another matter. When roadkill is larger than a rat or a rabbit it's not only messy but painful to see and I worried for miles whether that deer, coyote, dog or muskrat lying by the roadside had died quickly and painlessly.
As for other living things, I saw far fewer cattle than expected, and most of them in Alberta. The Caribou-Chilcotin region of central BC (aka "cattle country") had as many camels as cattle, which is to say, none. A Williams Lake resident assured me there are plenty around. They had probably been out of sight, somewhere in the shade, he said, which made sense: the temperature was around 33 Celsius. And in Saskatchewan I felt and saw plenty of bugs, especially dragon flies.
In northern BC, long, empty highways wound through wonderful uplands, vast tracts of grass already hayed.  Pines, cottonwood and aspen lined the roads, and mile upon mile of wild flowers: fireweed and Indian paintbrush and profuse yellow flowers that might have been buttercups or dandelions or something else entirely; I didn't stop to find out.
I live in southern British Columbia, in one of the richest dairy-farming valleys in the world. But hundreds of miles to the north, the country of the Peace River looked every bit as verdant. If I were a cow, I believe I'd be quite content there.
http://www.helenyeomans.com/wp-content/uploads/2014/10/Logo-11-300x88.png
0
0
hy
http://www.helenyeomans.com/wp-content/uploads/2014/10/Logo-11-300x88.png
hy
2014-12-18 23:12:07
2015-12-08 22:18:31
The Land of Moose and Cattle