It's astonishing how much detail you can find online for just about any background, locale or occupation. For my forthcoming book about oil drilling (working title The Roughneck) I have pages and pages of link references to forums, videos and websites. Much of it is good stuff, and most of it's reliable, although you have to be careful not to rely on a 1990s website, say, for details on contemporary drilling equipment.
But I wanted a taste of real life in northern BC, Alberta and Saskatchewan, and so I recently spent two weeks exploring these areas, travelling more than four thousand kilometers over wondrous highways and, less happily, over truly ghastly streets filled with frost heaves and pot holes.
I spent a night in Williams Lake, where some of the action in my book takes place. I felt an instant liking for this town, 550 km north of Vancouver. It's predominantly lumber and cattle, with friendly people who were glad to help. I chatted with Phil, a Korean who owns a carwash, while he washed my car, and with Kim, the reception manager at my hotel. Waitresses are a great source of local info and I chatted with several during dinner and breakfast.
In Fort St John I had an interview with Rob Smith and Doug Phillips, managers at Scott Hydrovac. I was given a tour of one of these mammoth trucks, each costing about a million dollars. The cab height is about twelve feet and even with the steps I had to work to get up there.
I'd gone in armed with two boxes of doughnuts, and Rob and Doug gave me solid information not only about hydrovacking (using high-pressure hot water to drill post holes, expose cables or clean tanks), but also about their experiences working on oil rigs.
I had a tour of a rig set up at the Northern Lights college campus and Arnold Drschiwiski, the retired roughneck who took me round, told me some hair-raising stories of rig collapses and the harsh working conditions.
In Whitecourt Alberta, which plays a pivotal role in the book in both bad and good ways, I learned how desperate northern employers are for workers, how kids today don't work because they know they don't have to; their parents will give them what they want. When they do take a job, they won't take direction, and they almost always think they're instantly ready for a management position.(I took this information with several grains of salt but have since learned that it is a view held not just by northerners.)
Bryan Passifiume, the editor of the Whitecourt Star, recounted stories of the dire shortage of workers in the region. I learned about the raids by the service companies, who will offer any young person, male or female, $25/hour to work in the oil camps as cooks or cleaners. A restaurant manager who one evening went into his office to do the accounts, came out later to find all his staff had quit, lured away by higher wages than he could afford to pay.
I had an interesting chat with the Whitecourt firechief on matters having to do with rescue, and admired his truck.
On through Alberta and in to Saskatchewan, I was astonished at how North by Northwest so much of it was. On the side of the highway, with nothing in sight but wheat and sky, I could believe I was Cary Grant running from the crop duster.
I eventually reached Carlyle in southern Saskatchewan, where I had interviews with Mark Scott and Billy Wilson of Savanna Well Servicing, executives with both drilling and servicing experience. They answered my long list of questions and provided rich details about equipment and rig life, about danger and injury and disability pay, though I must admit the most insightful thing I learned on this subject came much later, after I'd returned home, when I had the good fortune to chat with a derrickhand.
Lastly, I met up with Gerald and Jeannette Biberdorf, owners of a farm near Carlyle, and took a tour of their barley, wheat and flax fields. A number of pumpjacks worked away on small plots of their land and I learned that although farmers generally don't own the mineral rights and therefore can't earn a royalty on the oil coming up out of the ground, they do get an annual rent for each pump.
There are pump jacks dotting the fields all over southern Saskatchewan, and when the wind's in the wrong direction, you get a whiff of the rotten egg smell of natural gas.
I also learned of the difficulties confronting farmers with the growing demand for oil shipping that stretches rail resources too thin, leaving farmers holding the short end of the stick. Every town has a Railway Avenue and I saw many many trains throughout my trip. In Alberta and Saskatchewan, it seemed to me that black oil tanks outnumbered brown wheat cars.
I enjoyed a beautiful sunset that evening, and the following day I set off westward to return home after a fantastic and fascinating trip. I learned that every hotel, motel, cafe and hospital in northern BC and Alberta has rubbermaid mats inside the entrance door, where visitors are expected to leave their muddy boots. I learned a lot of country songs. I learned that McDonald's lids work best for coffee on the road. Still trying to clean my seatbelt.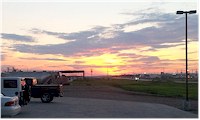 What a country.
http://www.helenyeomans.com/wp-content/uploads/2014/10/Logo-11-300x88.png
0
0
hy
http://www.helenyeomans.com/wp-content/uploads/2014/10/Logo-11-300x88.png
hy
2014-09-08 00:00:35
2015-12-08 22:19:08
Researching "The Roughneck"